Solutions for Crushing and Screening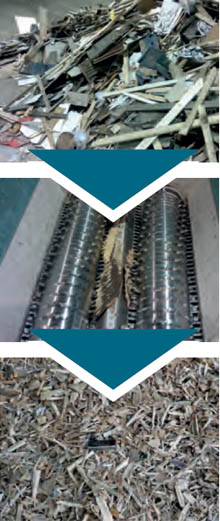 BMH preparation solutions constitute a compact system with no conveying. The
purpose of the system is to guarantee the quality and particle size
suitable for each particular boiler. The requirements of the boiler and the quality of biomass vary a great deal. It means that different actions, different equipment and different lay-outs have to be applied for different clients. Our experience ensures that the boiler will get exactly the fuel it needs for optimal results.
Fuel preparation (Crushing or Shredding)
If actual making of solid fuel is in question, the preparation starts with a chipper or a crusher (in case of wood-based or forest residue) or shredder (for household, commercial or industrial waste). This typically gives a particle size of less than 60 mm, which then is processed further.
The heavy-duty TYRANNOSAURUS® Biocrusher is a safe, economical and efficient way of crushing
wood-based residue, bales or stumps as well as cardboard, paper and other packaging material, etc. The teeth are of special steel, turnable and easy to change. The crushers' slow operation mode also diminishes possible damage caused by metal and stone.
The preparation unit (Screening)
The purpose of the unit is to improve and upgrade the fuel quality
. BMH Solutions ensure that impurities are removed, particle size is correct and clogging is avoided. Dust removal in the screening system and the casing of the equipment keeps the service points and walkways clean as an ATEX non-classifi ed space.
BMH compact Tyrannosaurus "Over Sizes" Biocrusher
are perfects to treat rejected over sizes particles from disk screen.
The
Tyrannosaurus Air Classifier
give an innovative system to separate by adjustable air flow heavier particles from fuel flow.